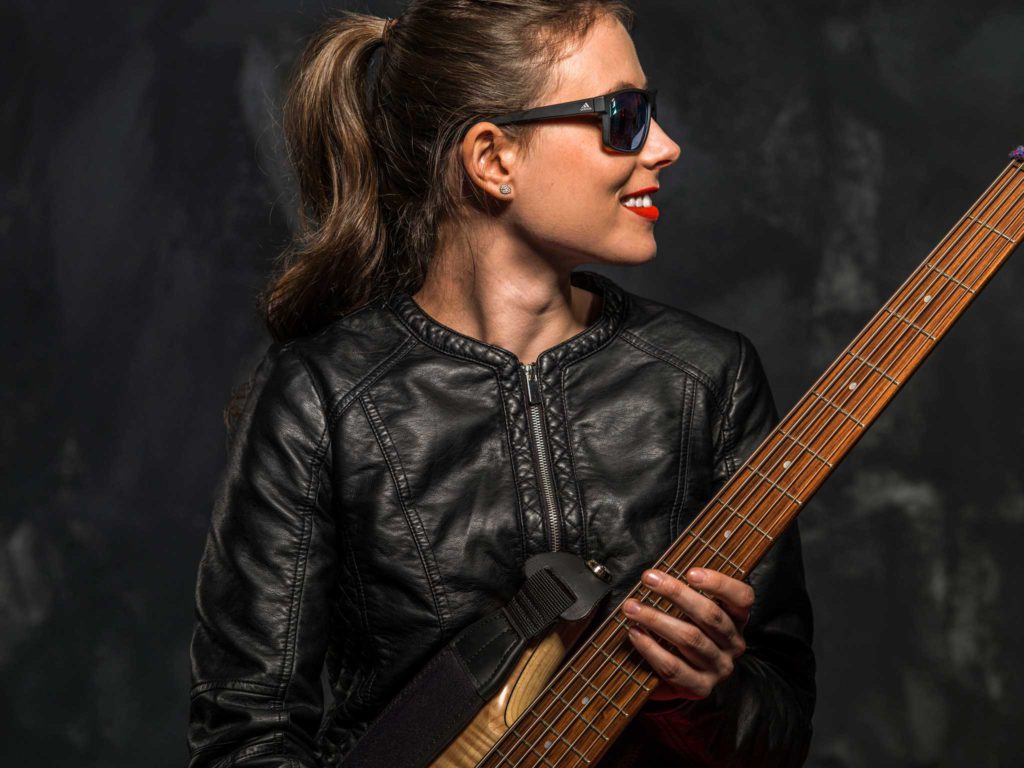 Biography
Born in Dublin – Ireland
Ciara Moser, born 1996 in Dublin Ireland, to an Irish Mother und an Austrian Father.
As Ciara was blind from Birth, her parents saw the necessity and importance of introducing her to musical instruments at a very early age thus, at the tender age of two and a half years she started learning the violin/fiddle through the world famous Suzuki method with a friend of the family Bernadette Robinson.
Moving to Austria with age of four
After moving to Austria at the age of four she continued violin lessons with Susanna Aigner Haslinger and won several youth competitions. During this time, she was a member of diverse small and larger orchestras taking part in many different youth productions.
Youth Experiences
From age seven onwards she added lessons in classical piano with Klaus Oberleitner as well as drums and percussion with the well-known Austrian drummer Stephan Hofer.
At the age of fourteen Ciara formed her first band called "Blind Bratz". She was then introduced to the bass guitar by Stephan Mastnak a renowned Austrian bassist und multitalented musician. That's where it all started and from that point onwards although she continued to pursue all her other instruments, taking lessons etc. her real love established itself to be the bass guitar.
Highschool
At the age of fifteen she decided to focus on enhancing her skills in playing the bass. She enrolled at the high school BORG in Linz, the only school in Austria which specialises in popular music she graduated four years later. Throughout her high school years she worked with several bands – the funk band "Round Corners" with Christine Grecksamer on vocals and Alex Hewlett alternatively Lukas Handlbauer on drums and the "Planet Earth Trio" both bands with the very talented Austrian guitarist Andreas Erd.
Vienna University of Music and Art "IPOP"
2014 she enrolled at the IPOP Department (Institute of Popular Music) at the University of Music and Performing Arts Vienna majoring in bass guitar – tutors Willi Langer and Gina Schwarz. May 2018 Ciara passed her Bachelor exams with first class honours.
Bands, Workshop Experience
For Ciara the importance of diverse and varied input and influences encouraged her to take part in many different workshops and music weeks. A few examples which played a fix part of her life over several years were Austria's best-known Jazz and Big Band Workshops or Academy's: Zeillern, Bad Goisern, EJPO (European Jazz and Pop Orchester).
Ciara also took part in the Viennese youth musical production "Estelle"- the life of a superstar written and composed by the multitalented blind musician Florian Angerer.
In August 2014, she organised her first very own music festival in her home town Aschach with several live bands – with all of whom she played the bass guitar which turned into a 7 hour music marathon! Ciara enjoys composing and has written works in the different music genres in which she is active.
Ciara was approached to join the Salsa Band "Manteka" which is well known in Vienna. At the same time she set up a fusion band "Defusion" with fellow music students and the "KiWi Company" a cover band which also specialises in world or diverse international music. A further very important development in her musical career was the invitation to play with Elias Meiri a renowned Pianist and multifaceted musician originally from Israel. Being part of other Projects, she continues to master further music genres such as jazz, funk, fusion, rock and pop on stage.
Filmwork
She also is one of the main protagonists of the cinema film documentation "FLOW" the principle of creativity which is showing in cinemas around Austria. The film shows lives of creative women in arts.
Six String Theory Competition
Ciara ranked Nr.6 at the Six String Theory Competition 2018.
Competition is for young upcoming musicians worldwide, initiated by Lee Ritenour. Musicians from 182 Country´s took part..
Life goes on
Bereits zum 9. Mal wurden bei "life goes on – die Gala mit Herz" im Wiener Rathaus die "Tara" verliehen. Die Preise ehren Persönlichkeiten, die trotz einer erschwerten Lebenssituation Außergewöhnliches leisten und somit Vorbilder unserer Gesellschaft sind. Die Taras 2017 ging unter anderem in der Kategorie Musik an Ciara Moser Mehr auf http://www.robinconsult.at/de/heldentaten/2561/9-life-goes-on–die-Gala-mit-Herz-Vorbilder-unserer-Gesellschaft-wurden-im-Wiener-Rathaus-geehrt
Tutors
Her tutors and/or collaborators: Elias Meiri, Rafael Trujillo, Christian Maurer, Klaus Dickbauer, Gerald Gradwohl, Allegre Corea, Luis Ribeiro, Hans Strasser, Robert Schoßleitner, Adrian Gaspar, Simon Plötzeneder, Florian Angerer, Conor Quinn, Flo Koch, Matheus Jardim, Bernadette Robinson, Suzanna Aigner Haslinger, Rezanka Thomas, Yuri Demenji, Elisabeth Ragl, Peter Aigner, Stephan Mastnak, Stephan Hofer, Gottfried Angerer (bass teacher Borg), Wolfger Buchberger, Andreas Erd, Martin Hulan.
Influenced by
Brian Bromberg, Tom Kennedy, John Patitucci, Hadrien Feraud, Anton Davidyants, Marcus Miller, Pino Palladino, Anthony Jackson, Tal Wilkenfield, Victor Bailey