New album at kickstarter
Ciara was able to reach her Kickstarter Funding goal for her first album and is currently working on recording and producing the Project.
Stay tuned for more Information soon!
Ciara Moser – a professional bass player from Austria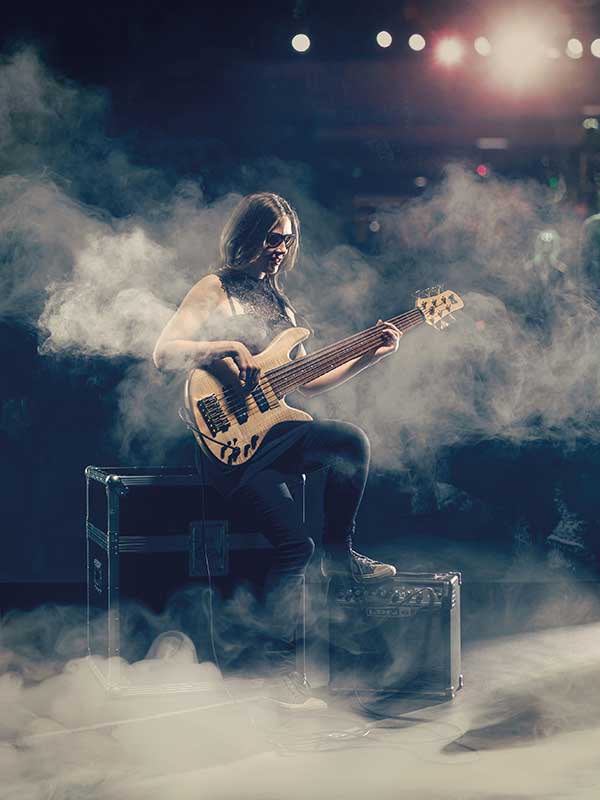 I can't read music in the visual sense, so I absorb the music directly and imprint it within.

Ciara Moser
Ciara was born 1996 in Dublin Ireland. As a multitalented blind musician playing several instruments she dedicated herself at the age of fourteen to her real love, the bass guitar.
In May 2018 she graduated with a first class honours bachelor degree from the IPOP Department (Institute of Popular Music) at the University of Music and Performing Arts Vienna (major: bass guitar).
Having been awarded a full scholarship she took part in the "Women's Performance Program" during the "5 week aspire"-summer workshop 2019 at Berklee College of Music, Led by Grammy award winning drummer – Terri Lyne Carrington and the "Berklee Jazz and Gender Justice"-Institute. Following that Ciara studied in the undergrad program at Berklee for one semester and attended the "assistive music technology" course with assistant professor Chi Go Kim.
As one of the 20 annual worldwide full scholarship recipients from the Berklee Global Jazz Institute, Ciara subsequently graduated from the program in December 2021 with a master's degree in jazz and contemporary music. She is currently involved in various Band and Studio projects in Boston, New York, Austria and South America.
In summer 2021 Ciara taught bass ensemble and master classes as part of the Berklee faculty at the "Viktor Wooten Summer Workshop".
January 2022 Ciara performed and taught masterclasses at the "Panama Jazz Festival" 2022 with Patricia Perez.
February 2022 Ciara was awarded a place in the jazz "Woodshed Network Residency Program" initiated by Deedee Bridgewater and her Daughter Tulani Bridgewater-Kowalski.
In April 2022 she will perform at the "Jazz por la Paz"-festival in Chile with 3 time Grammy award winner Danilo Perez. She will also perform there with the Patrizia Perez Ensemble and teach masterclasses.
She has been an invited guest on various documentaries and TV-Shows around Austria, including the documentary "Flow – the principle of creativity", "Vera", and the "Barbara Karlich" show. She has won multiple awards and Scholarships including the "Josef Ratzenböck" Scholarship, the "Tara – life goes on" award 2017, and the Matt Marvuglio Berklee "Student of the year" award 2022.
Since March 2020 she has being producing her own podcast "Blind. So What?" about daily life as a blind person and musician examining and clarifying some of the myths therein.
Since January 2022 Ciara has been employed by the Ensemble and Voice department at Berklee College of Music, Boston. She also teaches "in person" and online lessons in bass, ear training, composition, and music theory.
Upcoming Gigs
---
Past Gigs
Ciara Moser and friends
Global Jazz Club, Boston, MA
July 6th 2022 at 8 pm.
Global Jazz Womxn
Global Jazz Club, Boston, MA
June 1st 2022 at 8 pm.
Danilo Perez Quartett – "Hay Festival"
Hay-on-Way, United Kingdom
May 27th 2022 at 8:30 pm.
Danilo Perez Quartet – "Paradiso Jazz Festival"
San Lazzaro Di Savena, Bolognia, Italy
May 25th 2022 at 9:30 pm.
Craig Jackson Project
Rockwood Music Hall, New York
May 19th 2022 at 8 pm.
Craig Jackson Project
Nublu, New York
May 17th 2022 at 8 pm.
Patricia Perez Ensemble – "Festival Jazz por la paz"
Santiago de Chile, Chile
April 23rd 2022 at 8 pm.
Danilo Perez Ensemble – "Festival Jazz por la paz"
Santiago de Chile, Chile
April 22nd 2022 at 8 pm.
Erin Vadala and her Band
Breaking Sound Boston
Game On, Boston, MA
April 11th 2022 at 9 pm.
Vesuvio
Room 623, Harlem, New York
April 2nd 2022 at 8 pm.
Craig Jackson Project
Marians, Brooklyn, New York
March 5th 2022 at 8 pm.
Panama Jazz Festival 2022, Panama City
Performance with "The Global Jazz Womxn" (led by Patricia Perez) and teaching master classes.
January 9th to January 16th.