Blind. So What?
A Journey of Triumph and resilience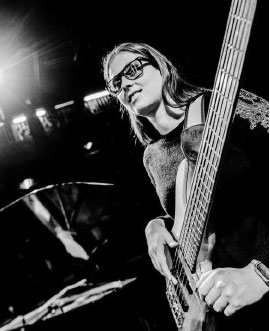 Ciara Moser produced, recorded and is looking to
tour with her 12-track Modern Jazz Fusion debut
album "Blind, So What?" which is centered around
her journey as a blind musician, to raise awareness
for the blind community and make her artistic
contribution to the music world.
The songs in the album include topics such as the
art of memorizing, spatial sense for orientation,
trusting others, and the different perceptions that
blind people have on the world.
The sound of the album ranges from groovy funk fusion to experimental contemporary jazz / world music elements. The complexity of the music catches the analytic listener while the catchy melodies allow it to thrive and stand out. Mindful arrangements and instrumentation give each musician a chance to showcase their artistry and add their individual flavor to the compositions.
ALBUM GOALS / VISION
As a professional bassist and someone who has been blind since birth, this part of her identity has shaped her incredibly unique journey through life and music in a profound way.
During her time pursuing her Masters Degree at the Berklee Global Jazz Institute, she was deeply inspired by the theme of using music as a vehicle for social change, and enhanced her skills for playing & composing with intention and zeal. This shaped her goals for sharing her message through music in the form of a debut studio album centered around her journey on blindness.
The first goal being to showcase her abilities as a performer, composer, arranger, and producer. The next, is to raise awareness by tackling the stereotyping and misconceptions that the blind community is subjected to, while inspiring musicians to view music through the lens of someone like her.
Ultimately, through showcasing her musicianship and addressing how blindness affects her life, the final goal of inspiring others with disabilities will be achieved. She seeks to spark the fire of a brighter future for fellow musicians, blind people and people with disabilities.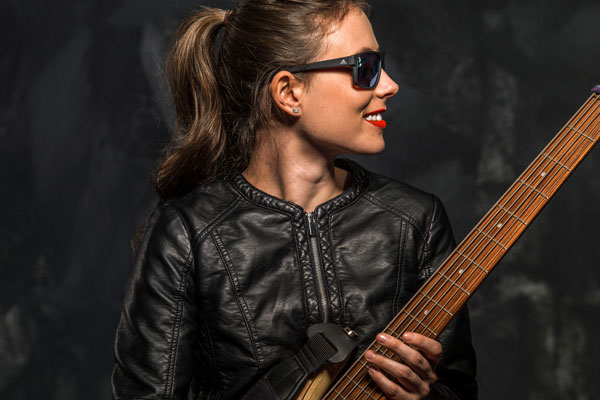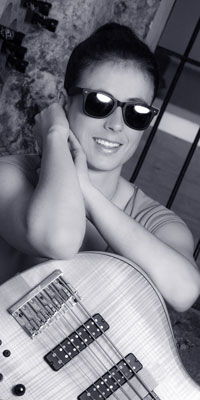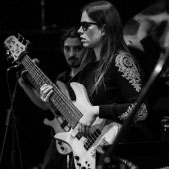 Who is Ciara?
Ciara Moser is a multitalented blind bassist from Austria / Ireland who shows proficiency in various styles and genres in band, orchestra, film and ensemble projects live and in the studio.
Beside international performances with artists such as Danilo Perez in countries like Panama, Chile, UK and Italy, she completed her masters degree at the Berklee Global Jazz Institute where she was mentored by John Patitucci, Terri Lyne Carrington, Joe Lovano and many
more.
Her Mission
As a blind bassist, her mission is to inspire through music, break barriers, and show the world that disabilities are not limitations.
Her Vision
To be a world-renowned bassist, recognized for her exceptional musicianship and ability to inspire others to overcome challenges and pursue their dreams.
Awards
Her list of achievements includes winning the Herb Alpert Young Jazz Composer Award for one of the tunes on her upcoming album, securing a spot in the Jazz Ahead Residency Program and Woodshed Network Residency, earning various Berklee awards, becoming a finalist in the Lee Ritenour Six String Theory Competition, receiving the Tara Life Goes On Award, and participating in multiple jazz workshops and projects, including Zeillern Jazz Academy, Jazz and Big Band Workshop in Bad Goisern, Weng Schui Project, and European Jazz and Pop Orchestra.